Storage
Barrett Boat Works offers Winter and Summer Storage Solutions
Storage Contract Terms
Summer Season:
May 15 — September 15
Winter Season:
September 15 — May 15
Balance due upon receipt of storage invoice
*Square foot is determined by BUC book definition of LOA x beam for the boat year, make and model.
**We cannot store any trailer over 25 foot inside
Call 24 hours in advance for accessibility.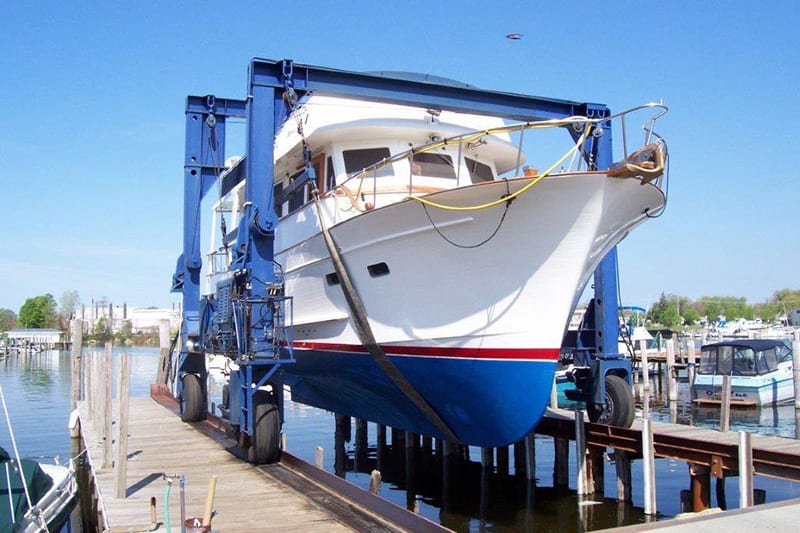 WINTER STORAGE FEE SCHEDULE
Storage Includes:
Haul-Out, Pump Out, and Spring Launch
BOATS WIDER THAN 9'6" ARE NOT ELIGIBLE FOR IN/OUT SERVICE OR WINTER RACK STORAGE. NO IN/OUT FOR TRITOONS OVER 24'. NO IRREGULAR TOONS.
TRAILER STORAGE: PER SEASON $250 OUTSIDE
(Tri-Axle $300)
IF OUTSIDE STAGING FROM THE BUILDING IN THE SPRING IS REQUESTED, A FEE OF $75.00 WILL BE ASSESSED TO BOATS SET ON RACKS OR $7.00/FT IF BLOCKS AND STANDS ARE REQUIRED.
ALL IN/OUT SERVICE TRITOONS, ADDITIONAL $300
IF TALL RACK IS NEEDED FOR IN/OUT SERVICE, ADD AN ADDITIONAL $350
Hoist capabilities up to 75 ton
Storage Amenities
Heated Floor Space
Well-Lit
Secure
Staff on Site Year-Round
2022 Winter Storage – Rules and Dates
In/Out service will conclude for the season at the end of the day on Sunday, Sept.20. We will begin receiving winter storage boats and staging in/out boats for pick up. On Sept. 21st, we will staff Mon-Sat from 8-5 through Oct. 31. We will have Sunday hours 10a-5p through Oct. 4. Our gas dock will run parallel hours.
In/Out boats not staying for winter storage must be removed from racks by Sept. 27 or storage fees will automatically be incurred and the boat will become inaccessible as we move storage boats into the building.
If requesting to be staged outside before being put away in the fall or after winter storage in the spring, staging fees will be incurred.
Storage buildings will be open Monday-Friday 8am-4pm during the storage season. You must sign in and out each time you visit boat. THERE IS ABSOLUTELY NO SANDING, PAINTING, WHEELING WITH A BUFFER OR USE OF ANY POWER TOOLS PERMITTED, AC OR DC HALOGEN LIGHTS ARE NOT ALLOWED. BOATS CANNOT BE PLUGGED IN TO CHARGE BATTERIES OVERNIGHT. VIOLATION OF THIS POLICY WILL PROHIBIT ACCESS TO BUILDINGS.
In/Out service will resume Friday, May 14, 2022. All storage rack boats must be removed no later than May 12. All boats staged or stored outside, must be off the parking lot no later than May 20.
Summer storage fees will be applied after May 20.
Floor Boats Winter Storage Contract
Rack Boats Winter Storage Contract
Storage Rules and Dates 2022
Storage Fee Schedule 2022
BBW Service Department
Our service department is available in the winter months to ensure your boat is ready to go in the spring.